Benjamin Smith at Caliber Home Loans
Phone: 757-535-5773 Fax: 844-496-9407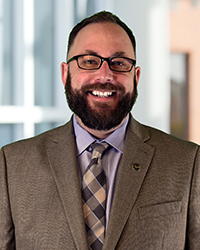 Benjamin Michael Smith
Senior Mortgage Loan Originator
NMLS # 372396
Mobile 757.535.5773
Email: benjamin.smith@caliberhomeloans.com
After our first conversation, you'll be thinking that we've known each other for a lot longer than just a few minutes. This is because I've built a fulfilling sales career during the past 15 years by concentrating on how I communicate with new borrowers. You'll feel comfortable and secure in the knowledge that one of life's biggest financial transactions is in the hands of a professional who's focused on customer experience.
I was raised by a custom home builder, so I grew up witnessing many of the unique challenges that new construction presents. After a military career in the United States Air Force, serving as an F-15 Weapons Specialist, I began my sales career in automotive before moving to loan originations in 2003. Today, I'm at Caliber as I specifically sought out a growing national lender that focused on closing home purchases on time with the latest technology. Here, I'm able to offer you a wider array of home loan and refinancing options than many big banks and credit unions.
A little bit about Benjamin:
6 years in USAF 1995-2000

Entered Mortgage business in 2003 to Present, Officially Licensed when it became a requirement in 2010.

4 years of Property Management Experience

Direct communicator – Facts and Figures always with a focus on Customer involvement

Detail oriented- Always an eye to the horizon to avoid pitfalls and "loan drama"
Benjamin's main goal in every transaction is to make his customer happy. That means honing in on the perfect loan product for your unique financial situation, along with clear communication with the entire "team". (Realtors, Financial Advisors, Clients and other parties). He believes it takes all of us to cross the finish line and close that loan!
Benjamin specializes in the three common core loans available: VA, FHA, and Conventional loans. There are other niche loan products available, but he's chosen to associate himself with experts in those categories as referral partners. You always get the product expert!
Benjamin is the Homes for Heroes Affiliate in Hampton Roads: Teachers, Firefighters, Police, EMTs and Military past and present are given a special discount as a thank you for serving our local community. If you know of someone in this category please let them know about this great program.
Get Started
Ask Caliber Home Loans a Question